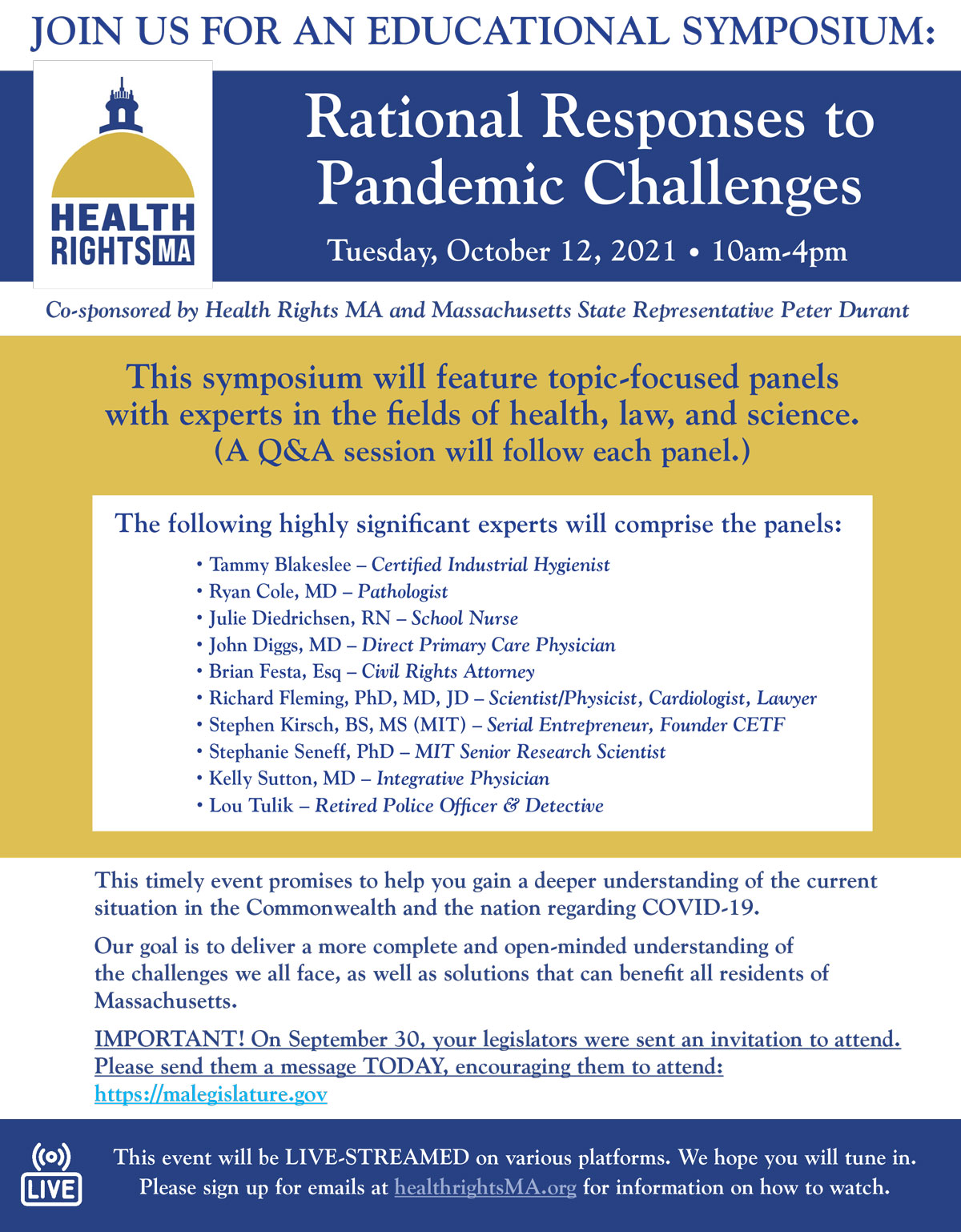 Educational Symposium: Rational Responses to Pandemic Challenges starts at 10am! We will do our best to stream live to all 3 of these platforms barring technical challenges. Please tune in! If you have questions please ask them in the chats. We will do our best to get some of them answered.
Ryan Cole, MD, Pathologist, AFLDS
Tammy Blakeslee, Certified Industrial Hygienist
Julie Diedrichsen, RN
Lou Tulik, Retired Police Officer and Detective
Stephanie Seneff, PHD
Steve Kirsch, Founder CETF
Richard Fleming, PhD, MD, JD
Lou Tulik, Retired Police Officer and Detective
Attorney Brian Festa
Dr. John Diggs, MD, Direct Primary Care
Kelly Sutton, MD, Integrative Physician
And More!
TAKE ACTION NOW TO PROTECT HEALTH RIGHTS IN MASSACHUSETTS
HUGE NEWS MASSACHUSETTS!!!
There is a bill introduced in the Senate (S.1122) and one coming in the house (HD.2861) that if passed, would protect fundamental rights recognized in the US Constitution and The Constitution of the Commonwealth of Massachusetts,
Declaration of Rights by:
• Affirming an individual's right to make personal decisions concerning medical treatments and procedures.
• Making it unlawful to terminate employment based solely on an employee's medical decisions.
• Ensuring equitable access to justice. Right now, only those with the financial means to hire a lawyer and the knowledge to do so can protect themselves against violations of their rights.
• Preventing discrimination against those who are medically vulnerable.
• Affirming that a person's fundamental right to privacy, travel and speech shall not be infringed upon to impede the making of decisions for themselves or for their dependents
TAKE ACTION WEEK!
We urgently need everyone to get involved and SUPPORT MA BILL S.1122. We can't wait for someone else to do it! It's up to each of us to speak up and made our voices heard!
How? Calling is best, emailing is great too, both is even better. Please do as many of the 6 ACTIONS ITEMS as you can THIS WEEK. If you have already done them, do them again!
If you live in Patrick O'Connor or Sheila Harrington's District it is especially important they hear from their own constituents. If you know anyone living in their districts please reach to them.
4/14 UPDATE:
The Massachusetts Medical Freedom Senate Bill is moving!!!! The bill has been assigned to the Joint Committee on the Judiciary and is now numbered S.1122.
We urgently need to secure meetings with every member of the judiciary committee. If your legislator is a member of the judiciary committee please reach out to them and set up a meeting. A few members of our committee will be available to attend with you. For a template and instructions on how to request meeting click here.
The house bill, cosponsored by Sheila Harrington is still awaiting language so for now we will focus on the Senate version.
If your legislators are not on this committee we'd still love a meeting with them. We want to talk to every legislator if possible. (Well, except Rausch and Vargas.) And please call or write them as well. It's really important that they hear a groundswell of support from their own constituents.
Find your legislators here: https://malegislature.gov/Search/FindMyLegislator